A lot of aspiring virtual assistants stop in their tracks when they want to start working online. They feel that they can't start without a laptop or desktop.
That is not true.
There are a couple of virtual assistant services you can offer with your smartphone. While there are other services that compulsorily require the use of a laptop or desktop. 
As you earn money offering services with your smartphone, you can use some of your earnings to get a laptop or desktop and increase the number of services you offer.
That said,
in this blog post, I'll tell you about  7 virtual assistant services you can provide with your smartphone.
Read Also: Cost of starting a virtual assistant business in Nigeria
Here Are 7 Virtual Assistant Services You Can Offer With Your Smartphone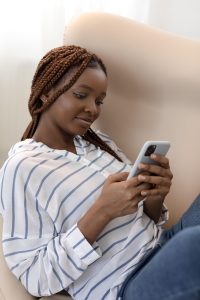 1.) Content Writing
You don't necessarily need a laptop to write blog posts, emails, social media captions or even ghost write. These are all possible with your smartphone. Most smartphones have MS word and Google docs and these tools can be used for writing creative content for your client. 
You can use a content editing app like Grammarly to check your content to make sure your grammar is correct.
Besides, writing is among the top in demand skills clients look for and you can offer this service comfortably with your smartphone.
2.) Canva Graphic Design
Smartphones support free tools like Canva which you can use to design graphic content for blog posts and social media etc. You can also use canva to slides for webinars, design flyers and logos, design ebooks, etc. So with your smartphone, you can become a canva graphic design VA.
3.) Social Media Management
With your mobile phone, you can provide social media management services like creating content for social media, managing social media accounts for clients, responding to social media messages and creating ads for social media. 
You can also use your smartphone to create content calendars for your client that shows you what to post and when.
4.) Basic Email Management
You can use your smartphone to write and reply to emails, schedule emails, flag important emails that must be handled by a client, unsubscribe from spam or unwanted email lists, and generally organise your client's email box.
 However, you will need a laptop or desktop to set up filters, labels, email signature, templates etc. Some clients already have these set up so if that is the case you can comfortably use your smartphone for the day to day email management tasks.
5.) Content Repurposing Services
With your smartphone, you can repurpose content a client has already created into various forms to help them reach more people, save time, and share their knowledge in the format that appeals to different people on different platforms.  
For example, you can listen to and transcribe published podcast episodes into blog posts for clients. You can also repurpose podcast content by turning a short episode to a long and meaty piece for an ebook.
6.) Basic Research
As long as you can read this post, you can do basic research for clients. It could be anything from photo sourcing to finding and summarising information on Google.
7.) Calendar Management
You can use your smartphone to schedule appointments for clients, remind clients of appointments, etc. If you can use Google calendar, you can offer this service. Booking platforms like Calendly and Tidycal can be set up and used on your smartphone too.  
Final Words
There you go! Now you know that you can get your virtual assistant career going with just your smartphone. You don't need a laptop to start. You can always get one with the money you earn while working as  a virtual assistant.
Are there other services you can provide with your phone not mentioned here?  Let me know in the comments.
Ready to start your own virtual assistant business? Click here to sign up for my free email course to learn how to make money online working as a virtual assistant.