If you need black Friday ideas for virtual assistants that actually bring in money…
Or have been wondering;
"Should virtual assistants have black Friday offers?"
"What kind of deals should I offer on black Friday?"
"How should I prepare my business for black Friday?"
This post will answer your burning questions and give you 5 black Friday ideas for virtual assistants.
Black Friday is one of the biggest sales events of every year.
It usually happens on the last Friday of November yearly. 
Many businesses want to get noticed and make sales because people are usually ready to spend some money. Virtual assistants aren't left out in this, so putting appropriate measures in place is necessary to achieve success.
There are two ways to profit from black Friday as a virtual assistant.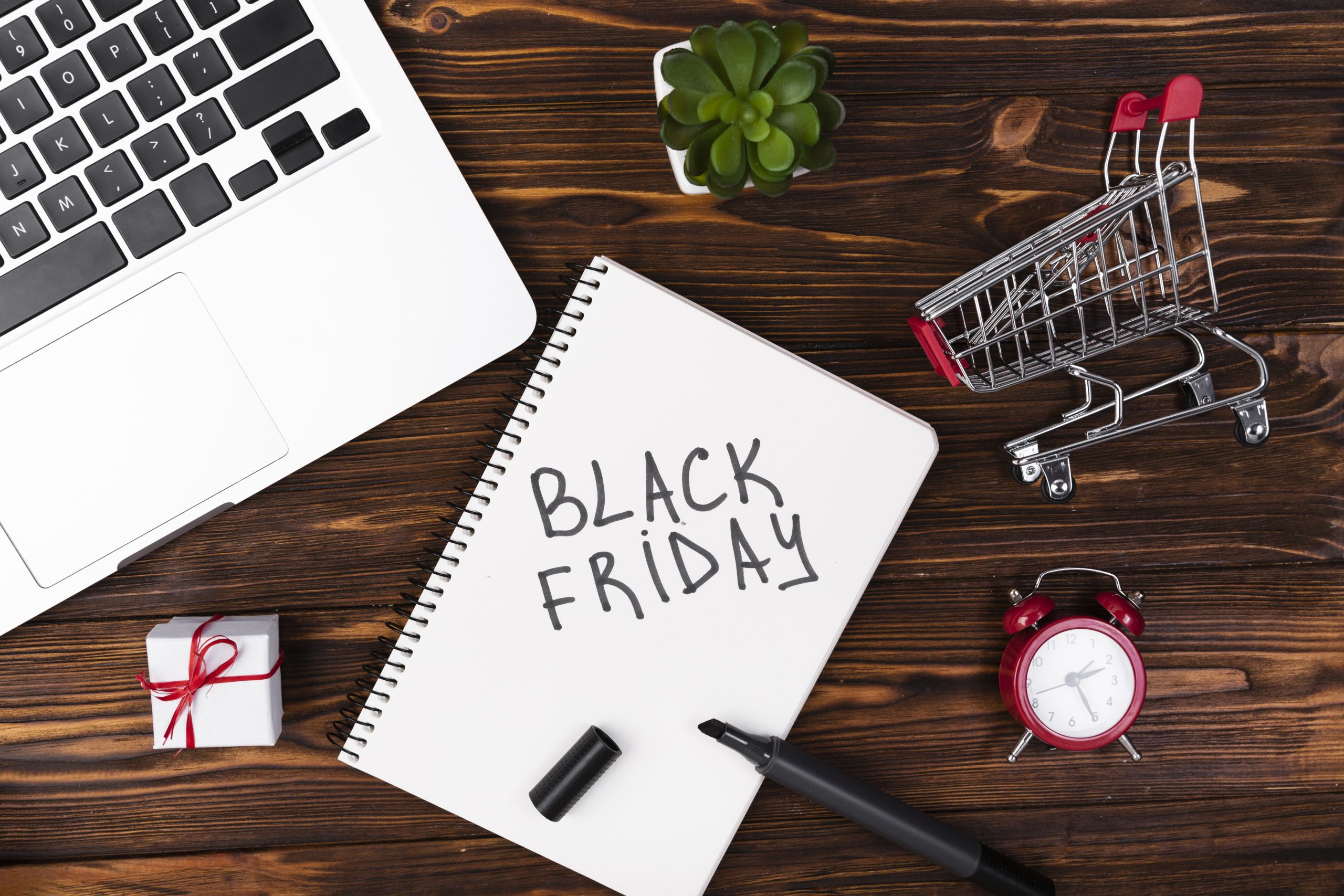 1.) Offer to help your clients and prospects prepare for black Friday.
This one starts even before black Friday. This is one thing a lot of VAs are not doing. Reach out to your clients, potential clients and even  past clients and ask about their black Friday plans.
If they'd need the help, offer to help them do something depending on the kind of services you offer.
Customer support, sales page design, email copy, Instagram content scheduling, community management, launch tech, online shopping etc. 
Over the years, I've realised that some clients want to do something for black Friday (or grab special black Friday deals for themselves) but are too busy to do it themselves.
Most of them procrastinate and do a last minute thing which does not bring in the results they need.
So if you are proactive enough to offer your services, the serious ones will jump at the offer.
You can even package it well and give it a fancy name.
For example, "get black Friday ready package for wedding photographers". 
As someone who offers email marketing, copywriting and website design services, I could offer to do all three things for wedding photographers to help them get ready for black Friday.
That'll increase my income for the month but to the wedding photographers I'd work with, it means automated marketing, automated sales, systems that work. And zero stress.
They won't have to do anything to get their calendar filled with wedding bookings for the foreseeable future.
It's always a win-win.
2.) Create your own black Friday offer you'll benefit from after Black Friday
Firstly, to prepare yourself as a virtual assistant, you have to find out if your client is also planning for black Friday so that your plan doesn't clash with theirs. If your client is planning for black Friday, you should start ahead of your client to prepare your offer and your marketing strategy. When you are done with yours, you can then provide support for your client. 
This is important because a lot of virtual assistants focus on client work and forget to do the boring work that keeps them in business.
To avoid feast to famine in your VA business you need to prepare for black Friday and leverage it as much as your client's do.
Before we get into black Friday ideas for virtual assistants…
Here's How to Prepare Your Virtual Assistant Business For Black Friday
1.) Take time to plan 
Take out a notepad and pen and think of low hanging fruits you can leverage to get a piece of the Black Friday pie.
Come up with new and innovative ideas that you are yet to explore in your business. This is necessary to avoid repeating the same kind of sales promotion every year.
The goal is for each year's black Friday offer to be juicier than the last. You also need to work out how many new clients you can handle – especially if you don't have subcontractors. 
Don't be greedy or unrealistic. You will ruin your business if you take on more than you can handle.
If you do have subcontractors, you should check whether they are available to help out to ensure you are able to cope with the potential demand.
Recommended: How to manage multiple virtual assistant clients without burning out
2.) Prepare your online channels.
After deciding on what your offer would be, you should prepare your online channels for the activity spike that is about to come.
Make your contents and calls to action idiot proof. Potential client's shouldn't have to wonder what they should do next.
Your website server should be prepared for the influx of web traffic that will come through once you launch your Black Friday offer. You may also need new additions like sales pages,  policy pages, etc.
If you plan to include emails in your marketing, ensure you don't send too many emails at once or you'll piss off your subscribers. Also ensure that your black Friday sales promotion email doesn't clash with any other emails, especially if you have automated email series set up. Segment your email list to ensure you are sending your offer to the right people.
Prepare your social media channels with social media posts, social media stories, ads, etc. 
Write and schedule your content in advance.
Don't just wake up on Black Friday morning and send out your offer. Ensure you have been talking about it leading up to the sale day. It's okay to send a minimum of one email daily to your list during black Friday. People may unsubscribe, but that's also a good thing.
You want a buying audience.
Read also: How to market your virtual assistant service and get paying clients
3.) Update your autoresponders. 
You'll have to update your online enquiry auto responders and change the expected response time. Set up autoresponder emails for enquiries that come through your website and social media channels during black Friday in order to manage customer expectations. 
For example, if you offer a 48-72 hour response time, change it to 24 hours max.
People are with their cards in hand ready to buy. Don't make them jump any hoops to do it.
You can easily send automated responses on Gmail. Don't know how? My email management for VAs course teaches that and more.
Recommended: Things to automate in your virtual assistant business
5 Black Friday Ideas For Virtual Assistants
1.) Offer a simplified version of your service. 
You can create a package that is a small sampling of your service. You can also create an exclusive bundle of your services by packaging your services in a limited-time special offer. This way, people who couldn't get the full offer at premium price will get a taste and maybe start working with you full time.
2.) Offer an add-on in addition to an existing service to make a special offer
It is important that you work out the feasibility, time and even the cost implications of offering a discount before you do. 
It's great discounting an existing package, but you don't want to get clients – only to discover that you discounted too heavily and are actually working for peanuts. 
Be realistic.
Don't give a discount just because the next VA is giving one.
Sometimes your business might not survive a discount sale and that's okay. 
You shouldn't have to burn your business to the ground to join the black Friday sale. 
Instead, don't reduce your rates but offer an add-on to attract clients.
You can create a simple info product like templates, an eBook, a Masterclass etc.
Think about something that will help your target audience achieve something.
This way, you will only create it once but can offer it to everyone during black Friday (and then sell it after black Friday to everyone else if you want).
Pro Tip:  If you decided to give a discount, you need to set how long clients have before they have to forfeit their money. You don't want client's coming whenever they like to give you tasks because they paid in advance 8 months ago. Whatever you do, be super clear in your offer details.
3.) Collaborate with other businesses that serve your target audience
Join forces with other businesses in your network who serve your target audience.
For example, a course launch VA can team up with a video editor, copywriter, graphic design and social media manager to create a single black Friday offer. 
This way, they can promote it to their audiences via their independent platforms to give aspiring, new and established  course creators all the support they need to launch their course in 30 days.
4.) Don't limit your offer to new clients
Don't promote your services to only potential new clients. Your past clients and existing clients already know how much you can help them. So be sure to offer them a promotion as well. It could be a discount, an add-on to their existing package. Etc.
Whatever it is, make sure they get an offer as well. After all, it is easier to sell to people who are already clients than brand new people.
5.) Promote your Affiliate links
As a virtual assistant, you use tools everyday to make your work easy. Most of these tools are also used by clients. So compile a list and share it as your Black Friday offer. It could be anything from software, courses or even gear your clients will benefit from.
For example, if you are a podcast virtual assistant and know a fantastic microphone that would make your clients audio quality better, you could sign up for their affiliate program and make money when your clients buy.
Read also: Top 10 passive income ideas for virtual assistants in Nigeria
Why is that a Black Friday offer?
It is a good black Friday offer because companies will be selling at a discount so any client that gets your free list will be getting something that'll help them save a lot of money on the tools and/or information they need to keep the lights on in their business. And you'll get paid when they use your affiliate links.
Pro Tip: this can be a great time to purchase particular services / products for your own business.
Final words
If you've not been taking advantage of Black Friday or didn't know what to do, I trust you'll do better moving forward.
You can be booked out well into the first quarter of a new year from your black Friday offer. Found this post helpful? Share it with others.