"How can I market my virtual assistant business?"
"How can I attract clients instead of chasing them?"
"Can I market my virtual assistant business without a website?"
Ever asked any of these questions?
You're not the only one. Most virtual assistants are usually puzzled with how they can market their business and attract quality clients. I decided to compile my list of 12 practical ways you can effectively market your virtual assistant business. A handful of these tips will work for  your whether you are an introvert or extrovert.
12 Practical Ways To Market Your Virtual Assistant Business And Get Clients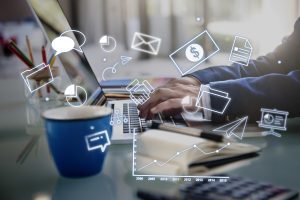 1. Create professional business profiles on social media platforms
With the information you get from profiling your ideal client, create professional business profiles on social media platforms like Facebook, LinkedIn and Instagram. Consistent profiles across various social media platforms helps you establish your presence online and helps build your brand and markets you.
You shouldn't just create social media profiles and call it a day. You have to intentionally market your services there. Creating content that positions you as knowledgeable, fun and easy to work with. Let your profile repel people you don't want to work with and attract people you want to work with.
2. Create a Website And Take SEO Blogging Seriously
Set up a professional self-hosted WordPress website (not a free website) and a blog that will act as your portfolio. 
On your website, make sure the services you offer and contact information are clearly visible for all to see. People don't like cluttered websites that lack the information they seek. Your site should also contain links to your social media feeds. professional photos of you, etc. 
Related: 12 things every virtual assistant website must have 
Blogging is highly beneficial for SEO purposes and is a great way to showcase your knowledge and skills to your potential clients. Use carefully targeted SEO-friendly keywords when posting content on your blog. This way, people all over the world can easily find you when they search for services related to you. 
Getting a basic website is not expensive. You can outsource it if you don't know how to create a website or learn step-by-step how to create a website and do it yourself.
3. Leverage Email Marketing
Email marketing is essential for virtual assistants. It's a good way to nurture leads into paying clients using lead magnets. Offering a lead magnet simply means offering them something in exchange for their email address like a freebie or Ebook.
Once they are on your list, you can nurture them with more helpful content, position yourself as an asset and introduce your paid services.
4. Leverage Content Repurposing
Content repurposing is a smart way to get your virtual assistant business in front of potential clients in various formats and on various platforms.  You can use social media posts, infographics, YouTube videos, Podcasts, Webinars, Instagram, blog posts, etc. to teach potential clients about yourself and your services. You can also use this to show off a particular type of service and get them thinking how it could work for them. Share tips on frequently occurring topics related to the services you offer. Record live events and make them available for later viewing. The opportunities with content repurposing are endless. If you don't know how to repurpose content for your business or your clients, you need to learn how in this easy course.
5. Market Your Business Offline
A lot of new and aspiring virtual assistants under-rate offline marketing activities. I've had family and friends, colleagues, and church members pay for my services and refer me to clients. So don't be shy to  advertise yourself to your family and friends, let them know the services you are offering. Even if they don't have a business or need your services, they might know someone who will.
Sometimes your ideal client is hiding in plain sight.
It doesn't always have to be social media or even your website. You can also market your virtual assistant business at physical networking events. Business cards are cool for physical events. Another subtle way to market your business is by wearing a statement tee-shirt to such events. They are good conversation starters.
6. Join A Strong Network Of Virtual Assistants
You can find strong and free virtual assistant platforms on Facebook, Linkedin etc. that can help each other gain clients. While in those groups you need to be useful. For example, you can refer admin jobs to a VA good at that if you are a tech VA for example and vice versa. This will also help you stay up to date with current trends and upskilling opportunities. It will also raise your profile and people you connect with may refer clients to you.
7. Get Strong Testimonials
Positive testimonials position you as someone who others are happy to work with and can get clients their desired results. Whether you like it or not, prospective clients will judge you based on what other people say about you. That is why you need good testimonials.
If you don't know how to ask for testimonials or your clients are too busy to write or record testimonial videos for you, you can get my testimonial request kit to help you ask clients for testimonials and make them give you one even if they are too busy to write or don't know the right words to use.
8. Ask For Referrals
You can leverage your relationship with one client into a client acquisition opportunity. Have you ever completed a project and asked your client for a referral? It doesn't make you sound desperate. Closed mouths don't get fed.
Asking for a referral is a no brainer when you know the referrer has a network of people that need your services. My referral request kit will help you ask for referrals professionally.
9. Showcase Your Past Work To Your Potential Clients In Your Portfolio
You need a virtual assistant portfolio whether you already have clients or are just starting out. If a client is happy with the work you display in your portfolio, they might hire you. Another thing you can do is to create a case study for clients you have successfully worked with. In your case studies, share where your client was, how you supported them and the results of the strategies you implemented.
10. Volunteer Strategically With No Expectations
When I started my VA business in 2019, I volunteered to design ebooks for an online community of bloggers. That no strings attached decision opened the doors to the business you're seeing today. I got a couple of clients from that platform who needed ebooks once they saw what I could design.
When you volunteer to offer your services to your ideal client, it may end up in a paid work relationship if you play your cards right.
11. Use Paid Ads
You can advertise online by using paid advertising from Google AdWords to get higher ratings on search engines and social media ads. You can also advertise yourself on Facebook groups where your clients might be active and your social media circles.
Before you run any kind of Ads in your business, ensure you prepare your business for the traffic that'll come your way.
12. Joint Venture (JV) Partnership
This simply means partnering with another service provider who has an active audience of your ideal clients on social media, their podcast, YouTube channel or even email list. Once you find a JV partner, your JV partner can introduce you to their audience via an exchange of resources.
For example, if you help realtors with admin work, you could find a coach for realtors to partner with. This way, you could share your knowledge with their community of realtors, telling them how a VA can help them with their admin work (and pitch your services of course). 
In exchange, your JV partner will have provided their community with helpful information and can get introduced to your own leads as the go-to coach for realtors. You could help your JV partner with whatever admin tasks they are struggling with. JV partnerships are always a win for all parties.
Wrapping Up
Marketing your virtual assistant business is important to be successful. You may be the best virtual assistant alive and not get clients if you do nothing and wait for clients to come to you. 
Hopefully, these tips can be helpful as you market your virtual assistant business and get clients. Found this post helpful? Let me know in the comments.